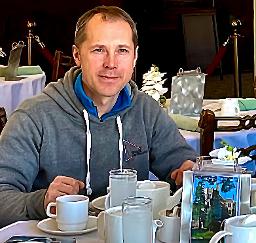 Last Sunday we celebrated 31st anniversary of Hosanna church's birthday. First of all, thank all of you who participated in greetings via video. Your words brought us encouragement and delight to know we are surrounded by faithful support of love and prayers from the Body of Christ all over the world!
Such events meant to bring joy and comfort from the realization of all the Lord has done in one's life. To be honest, this year it was a mix of different emotions and feelings, so I was not sure how it will come out finally. But God… indeed, He came as the loving Father to His children and brought this overall sense of His presence and joy and peace that comes from it. So, we celebrated 😊 indeed He prepared for us a table in the sight of our enemies.
All of it to say – God is on the throne and He has everything under His control and guides everything toward His glory. We, as church, want to remain faithful to His calling to preach the Gospel and making the disciples and to shine in this dark and evil world with his love and truth. The Lord is coming!
We continue to serve the people of Ukraine with those opportunities we currently have. The situation is such that many volunteer organizations and churches are depleting their resources. Along with the material, there are also emotional resources which are also draining up in many 😊 It has been already three months of daily roller coaster ride for us here. To get back with enthusiasm and faith to carry on, we strengthen ourselves with the hope in the Lord. So David did in his many struggles which are depicted so detailed in Biblical narrative. So, if you would, please continue to pray for the church in Ukraine, Hosanna church in particular, to have the wisdom and strength to continue serving the people amidst many uncertainties.
With the help you and others provided in the course of these three months, as of 26th of May we have reached over 3000 people (refugees) needed help here in Rivne and a number of people in other cities;
We continue to sponsor production of canned meat for soldiers of Ukrainian army;
152 vehicles were packed with aid from our resources and sent further to different destinations further East, South and center of Ukraine.
We are delighted to see people from the number of these refugees coming to the church services and also during the week to help with volunteer errands we do here daily. The seed of the Word and Kingdom of God is been sown generously in this season. The Word has power to grow in the hearts and lives, though it takes time. We trust him Who grow the seed!
I thank God for all of you friends! May you, your families, your churches and ministries, and the work you do for our Lord Jesus be blessed and multiplied!
For His glory and in His service!
Volodymyr Lanevych and elders of Hosanna church, Rivne, Ukraine"